Welcome to the October 2023 edition of The Despatch, the Military Communications and Electronics Museum Newsletter.
80 Years Ago! The Invasion of the Italian Mainland
Campobasso was the next target in the invasion of Italy. The main body of the 1st Brigade was to head to Campobasso with the 3rd Brigade in reserve. The 2nd Brigade would be protecting the left flank of the entire Eighth Army.
The Germans had time to dig in and regularly shelled the highway on the way to Campobasso. The mountainous countryside favoured defensive positions, but Canadians kept pressing their attack and the Germans had mounting losses. As they withdrew, Canadian troops kept pressing forward. Campobasso fell to the Canadians on October 14, 1943. Campobasso became known as "Maple Leaf City".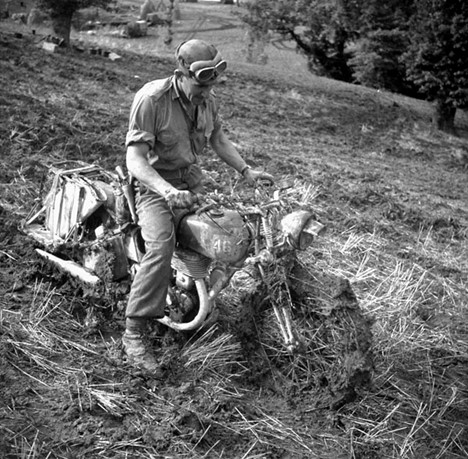 Unidentified Despatch Rider, near Campobasso, 1943. Credit: LAC
Once again, the No. 19 wireless set proved its worth. While the terrain was hilly and mountainous, signals were being sent up to 65 miles at a time. Used extensively by commanders, wireless was also used by the engineers and the artillery for every task.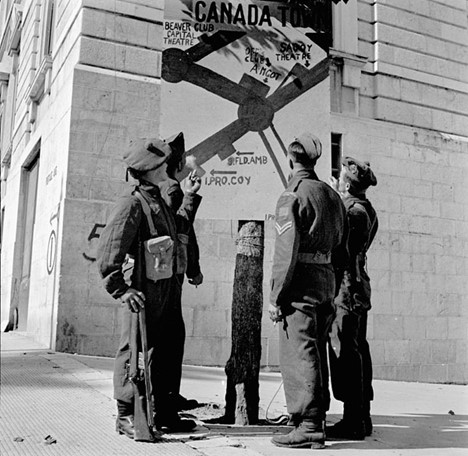 Figure 1A "Canada Town" Billboard, Campobasso October 1943. Credit LAC
Once Campobasso had fallen, a position in Castel di Sangro was made the Brigade Signal Office.
"The fullerphones worked 24 hours a day, and the operators considered a 500-word message a short one. There were 72 lines on the switchboard, and the trunk lines were in continuous demand."
Pg 133, History of the Royal Canadian Corps of Signals 1903-1961, edited by John S Moir, M.A.,Ph.D.
Did You Know?
After the Invasion of Italy, a large percentage of the Italian population became partisans, fighting behind the lines against the Germans. 40% of the partisans were women!
The courage and resourcefulness of the Italian female partisans lead to many changes after the war and resulted in women having more of a voice in Italian society.
Today, women have the same legal rights as men in Italy.
Karen Young, Museum Manager
October is Women's History Month!
Corporal Janie Patricia Moyles, Canadian Women's Army Corps (CWAC)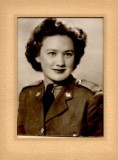 Corporal Pat Moyles, 1943. Age 17.
Very few people talk about the discrimination that the CWAC's faced as the emergence of a large group of capable, self-confident female soldiers created social tension. In 1943, many people believed a women's place was not in uniform, but in the home. Many Canadians, men and women, held a dim view of women who did join the armed services, generally believing that only "loose women" with low moral standards joined the military.
Women served in the Communications and Electronics Branch in WWII but finding their stories is difficult. I would like to share an article written by Jim Hueglin in 2011, from his blog called Semaphore to Satellite. http://semaphoretosatellite.blogspot.com/2011/08/corporal-pat-moyles-canadian-womens.html Jim was a long-time volunteer at the museum and has always been interested in preserving C&E Branch history.
Janie Patricia Moyles was born on March 22, 1926 in Alberta. She was 16 years old when she enlisted in the Canadian Women's Army Corps. After passing basic training she was sent to the Canadian Signals Training Centre (CSTC), Vimy Barracks, Camp Barriefield as one of the first CWACs to begin trades training as radio operators. She was then assigned to No. 1 Special Wireless Station (SWS) the forerunner of CFS Leitrim, Canada's oldest operational signal intelligence collection station as a signals intercept operator.
The work that Corporal Moyles was doing was so secret that she and the rest of the women she worked with had a separate wing at the Argyle Barracks in Ottawa, where the female soldiers were quartered.
In her interview with Jim Hueglin, Corporal Moyles recalled:
"At No 1 SWS we were copying subversive signals (HAM operators were prohibited from operating during the War), as well as high-speed radio traffic from Argentina, as I recall. I remember the high-speed receiver was a Hallicrafter. Simultaneously we were in training to copy Japanese military communications that used regular Morse code and modified Morse code, or barred letters, to represent elements of their Katakana phonetic writing system. The Japanese operators were well disciplined and we didn't intercept much chatter in their Kana format." Jim Hueglin,  http://semaphoretosatellite.blogspot.com/2011/08/corporal-pat-moyles-canadian-womens.html
In 1943, Corporal Moyles was sent to the No. 3 Special Wireless Station in Victoria to intercept messages from the Japanese until the end of the war. Once the war was over, she remained in Victoria intercepting messages from the Russians and Chinese until the CWACs were disbanded on September 30, 1946.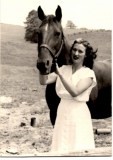 Pat Moyles, 1948 after her war time service, age 22.
Janie Patricia O'Buck (nee Moyles) passed away May 3, 2022 in Plains, Montana. She was 96.
October Museum Happenings
Museum Hours Change!
We are closed for Truth and Reconciliation Day October 2, and Thanksgiving Day October 9, 2023.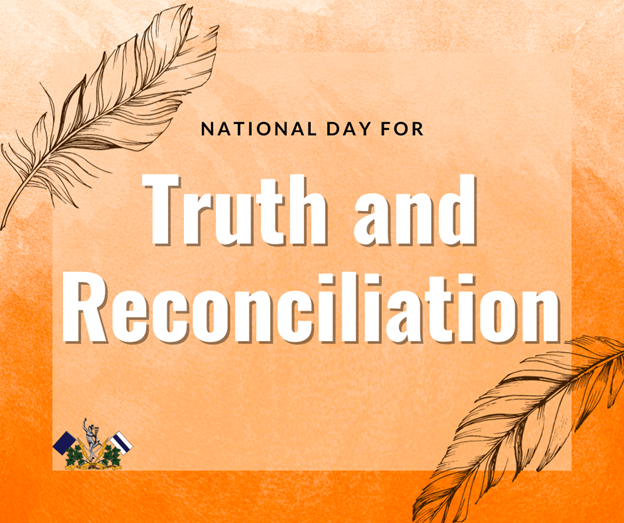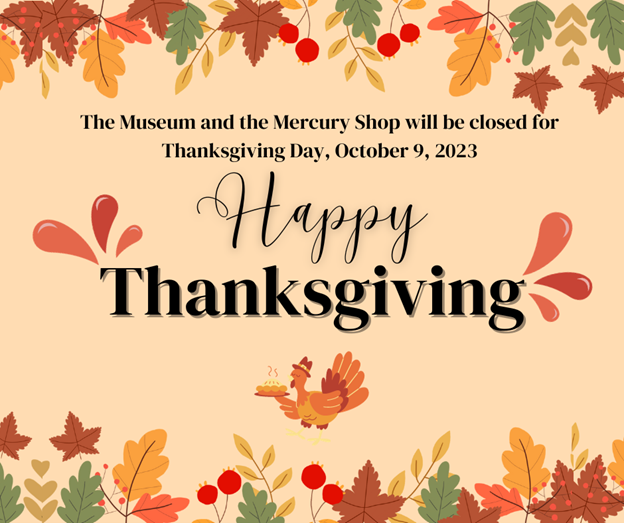 Coffee with Veterans
Our next Coffee with Veterans is October 10 at 1000. All are welcome! This includes veteran's spouses and widows/widowers. Proudly sponsored by ADGA! www.adga.ca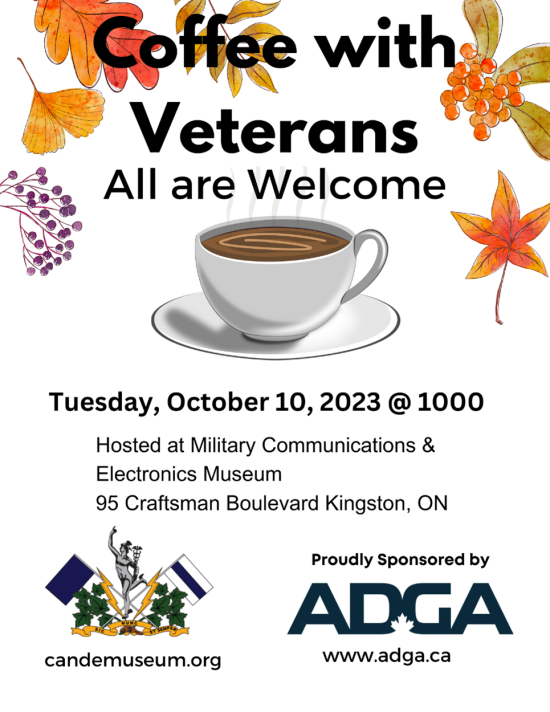 C&E Week!            
C&E Week is almost here!
The Military Communications and Electronics Museum is proud to be the site for the C&E Week Veterans' Breakfast on October 24, 2023. Contact kevin.okeefe@cmcen.ca to reserve your spot!
Exercise NOBLE SKYWAVE 2023 (EX NS 2023), a High Frequency (HF) radio communications competition conducted annually by the Communication and Electronics (C&E) Branch is held during C&E Week. This year, the competition is being hosted by 21 Electronic Warfare Regiment (21 EW Regt).
TIFF Acknowledgement!
Did you know that CFB Kingston is used for making movies occasionally? The monument vehicles at the MCEM were filmed this spring for the movie He Thought He Died and secured a berth at TIFF! The producers were kind enough to thank the museum and CFB Kingston for permitting the filming to occur at the festival.
Operation Trick and Treat
The MCEM will be open for a hauntingly great evening on October 30, 2023 from 1730-1930. Try our spooky picture scavenger hunt and grab a few treats! Geared for younger children. Email us at info@candemuseum.org for details.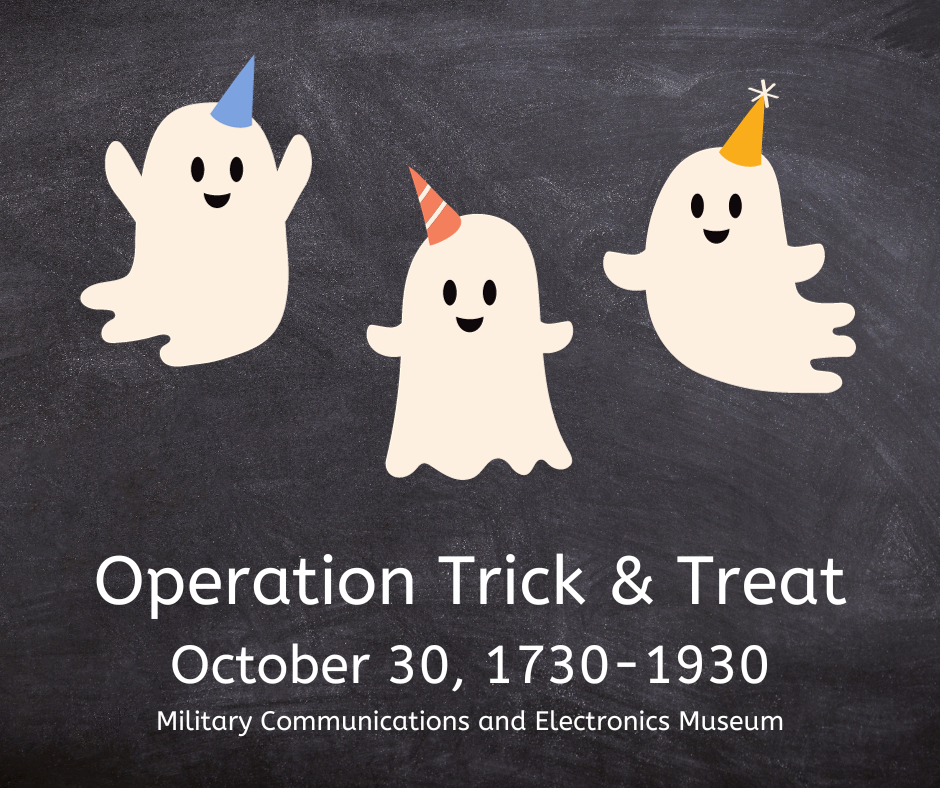 Mercury Shop
It's early October and even though Remembrance Day is more than a month away our cut off day for medal mounting for Remembrance Day is October 23, 2023!  To avoid stress and delays, especially if we have to order items for your medals, we advise bringing them in as soon as possible.
 The Mercury Shop makes custom engraved or sublimated items at the shop. Have a special event and want to create something unique? Bring your designs to us and we can place them on glass, ceramics, wood, and steel. We have even engraved leather!
As always, the Mercury Shop has a wide range of military accoutrements available as well as our medal mounting service all year round. Our hours are 1000 to 1530 Monday to Friday.
For more information about any of our other services, please reach out to the Mercury Shop by phone 613-541-5395 or email mercuryshop@candemuseum.org
Leala Hampel,
Mercury Shop Supervisor
Not Forgotten – Corporal Ian Peake Crawford

References:
A. www.rcsigs.ca/index.php/Signals_Casualties_of_the_Great_War_-_Details#Crawford_Ian_Peake
B. https://central.bac-lac.gc.ca/.item/?op=pdf&app=CEF&id=B2121-S019
C. https://www.veterans.gc.ca/eng/remembrance/medals-decorations/details/57
D. https://www.cwgc.org/find-records/find-war-dead/casualty-details/253418/i-p-crawford/
E. https://www.thegazette.co.uk/London/issue/30750/supplement/7133
F. https://www.thegazette.co.uk/London/issue/30750/supplement/7176
G. https://www.veterans.gc.ca/eng/remembrance/memorials/books/units-orders-ranks-decorative-pages/ww1_ranks01
H. https://www.warmuseum.ca/the-battle-of-vimy-ridge/
I. https://www.longlongtrail.co.uk/soldiers/a-soldiers-life-1914-1918/common-british-army-acronyms-and-abbreviations-of-the-first-world-war/
Ian Peake Crawford was born on 9 April 1896 in Dargavel, Scotland to Janet and Peter Crawford.  A horseman by trade, at age 19 he enlisted with the Canadian Expeditionary Force (CEF) on 13 December 1915 in Toronto, Ontario.  He arrived in Shornecliffe, UK in March of the following year, and was officially taken on strength by the Canadian Engineer Training Depot (CETD) in April. 
In June, likely after having completed his training, Pte Crawford was transferred to the 4th Divisional Signal Company in Bramshott.  In August of 1916, he proceeded to France, possibly somewhere in the North of France, as he spent some time in a field hospital in St. Omer in April of 1917.  On 10 April 1917, as the battle of Vimy Ridge was ongoing, Pte Crawford was appointed Lance Corporal.  On 14 April, two days following the end of the battle of Vimy Ridge, L/Cpl Crawford was reported at the Number 4 General Hospital in St Omer, diagnosis listed as NYD (or Not Yet Determined).  He rejoined his unit on 23 April 1917, and a month later was promoted to "2nd Cpl" (another way of denoting Lance Corporal.  Potentially losing his appointment when he had been posted away from the Signal Company). 
While the records are unclear on where he went, Lance Corporal Crawford spent a few more weeks in a hospital in June of 1917.  Returning to his unit in July, L/Cpl Crawford was promoted to Acting Corporal (with pay) in October of that year.  Potentially backdated, he was Confirmed as a Corporal in January of 1918, with the report date back to the same day as his acting appointment took effect. 
In June of 1918, the London Gazette printed a notice that Cpl Ian Peake Crawford was awarded the Meritorious Service Medal (MSM).  Prior to 1916, the MSM could only be awarded to Senior Non-Commissioned Members and Warrant Officers who had been discharged after completing 21 years of honourable service, and who had received the Good Conduct and Service Medal.  However, in 1916, the criteria was expanded to include all ranks for gallantry.  This included any action (outside of action against an enemy) taken to save or attempt to save the life of a fellow service member, or "devotion in a theatre of war."  Unfortunately, citations were not listed for the particulars of the award, so it is unknown what action Cpl Crawford took to receive the MSM.
It was reported that he had received the MSM on 22 July 1918.  Less than a month later, on 9 August 1918, Cpl Ian Peake Crawford was reported killed in action.  The report of his death stated "Killed in action by hostile aircraft 9-8-18."  Cpl Crawford is buried at the Hangard Communal Cemetery British Extension, in Somme, France.  His headstone was commissioned by his father, Peter, but bears no inscription besides his name, age, and date of death.
- Capt Sean Maas-Stevens, CFJSR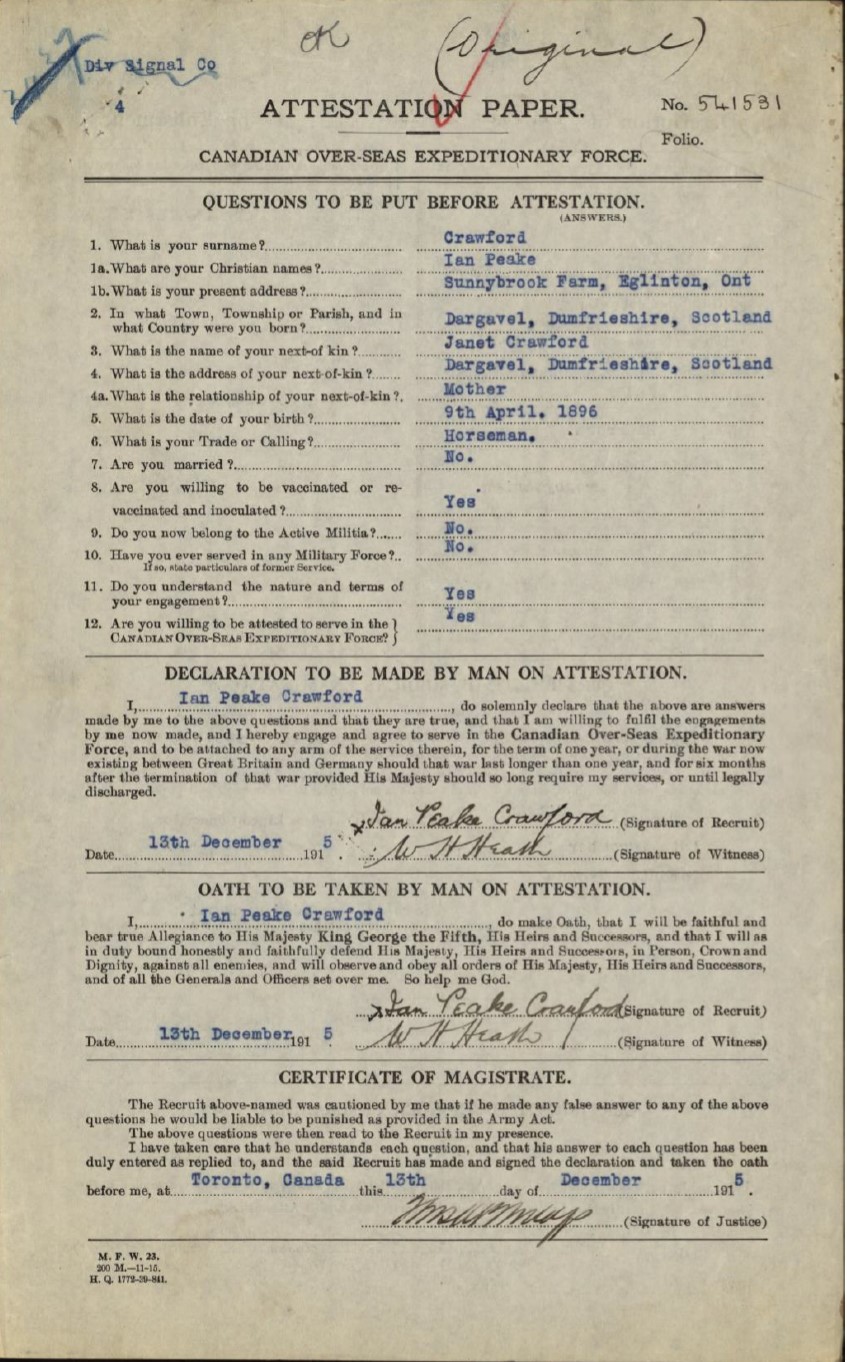 Attestation Paper for Ian Peake Crawford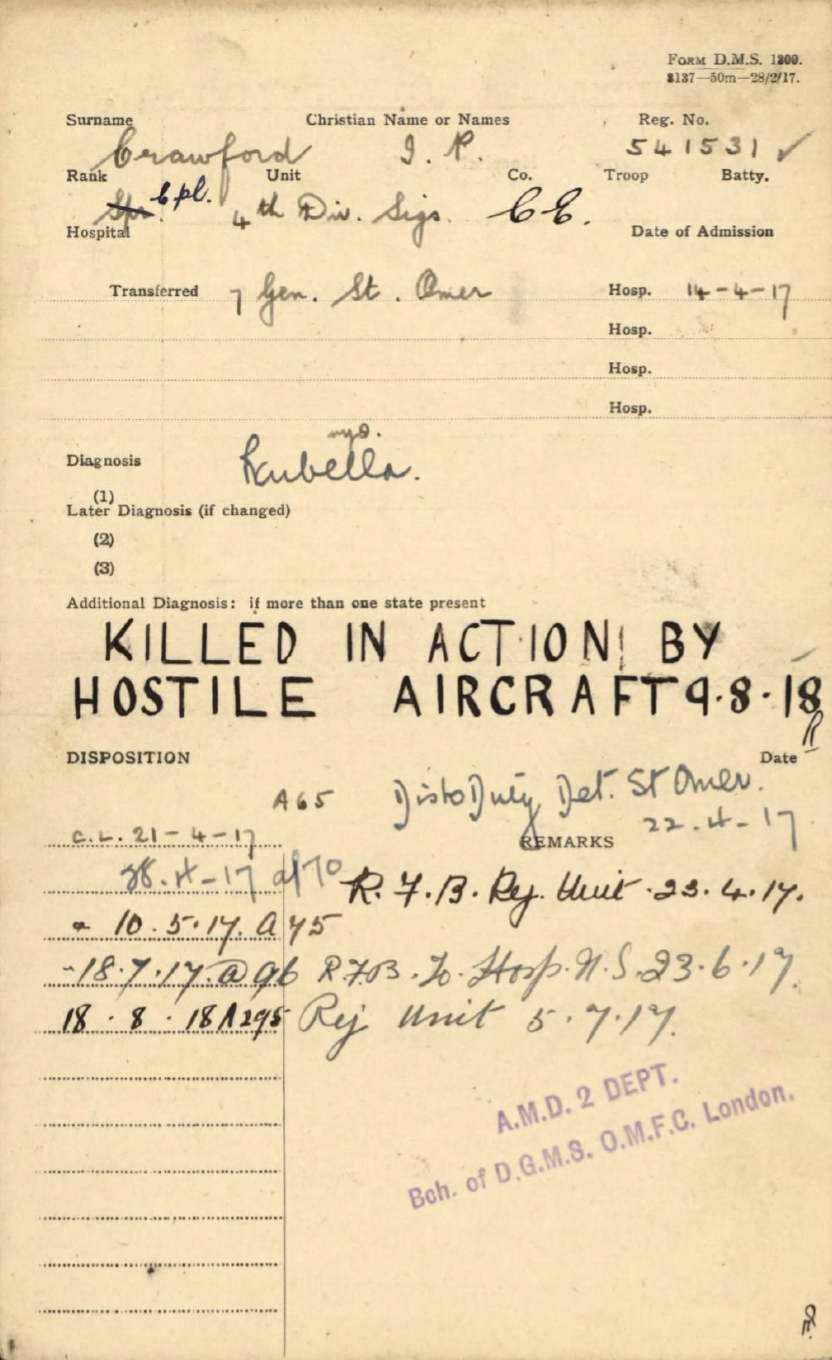 Diagnostic report for the death of Ian Peake Crawford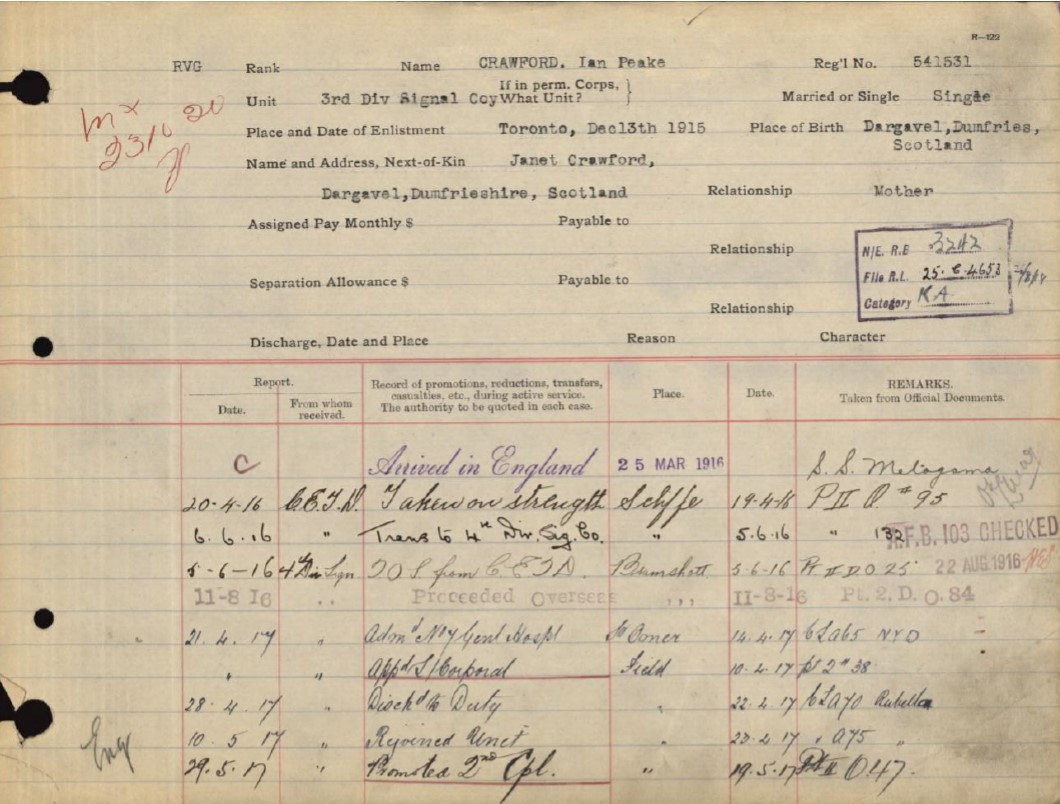 Posting History for Ian Peake Crawford 1/2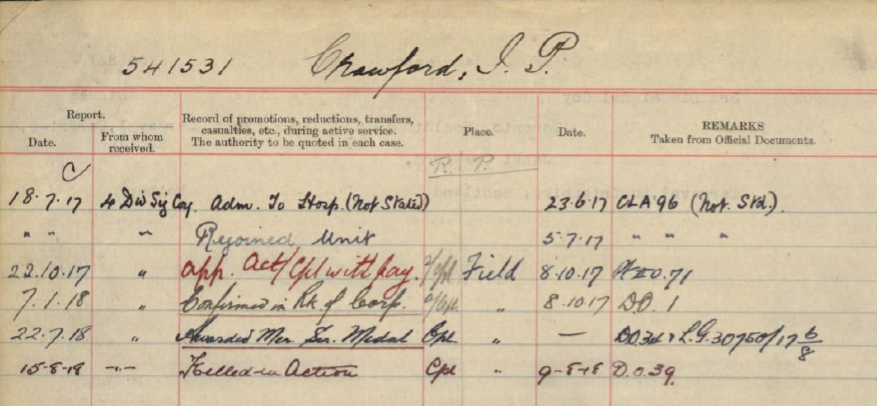 Posting History for Ian Peake Crawford 2/2 – Includes awarding of Meritorious Service Medal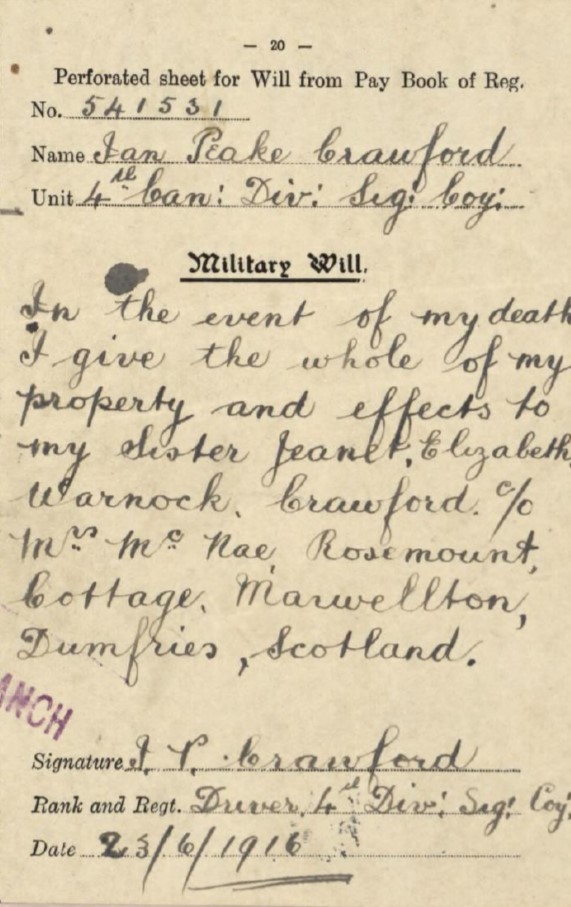 Handwritten will of Ian Peake Crawford