Welcome to the November 2023 edition of The Despatch, the Military Communications and Electronics Museum Newsletter.
80 Years Ago! The Invasion of the Italian Mainland
November 1943, saw the Canadians preparing for an Italian winter. Convoys from England made of American, British, Greek, and Dutch ships were bringing supplies and troops into Naples. As they entered the Mediterranean Sea, the RAF would provide air cover for as long as possible before returning to base. This meant that convoys were unprotected while the next rotation flew out to the sea. On November 6th, 1943, Convoy KME-25A came under attack from 9 Luftwaffe torpedo planes and 16 bombers. In ensuing attack multiple ships were torpedoed.  Three ships sank, including the SS Saint Elena, an ocean liner converted to a troop ship with over 1,800 Canadian soldiers and nurses on board. 6,228 people were rescued and shipped forward to Naples. Because of this incident, convoys no longer went the same speed as their slowest ship but were sorted into two groups, the fast ships doing top speed, while the slower ships were grouped together.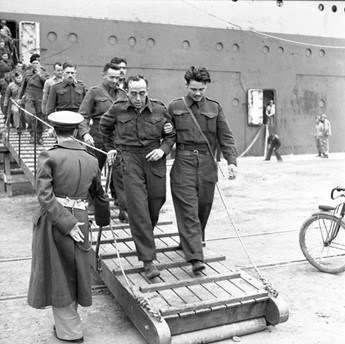 Survivors of the sinking of the SS Saint Elena from the 5th Canadian Armoured Brigade arrive in Naples November 8, 1943 Credit: LAC
In the meantime, the decision was made to appoint RCCS officers to command the signal troops within the armoured regiments of the 1st Canadian Armoured Brigade. This resulted in long lasting positive changes for tank communications. In early November Signals officers began to install infantry Wireless sets in the Brigade's tanks so that the crews might work in direct communications with the Battalion they were supporting. Signalers also installed a plug on the outside and rear of the tank which was wired to the intercommunication system of the No. 19 radio set inside. This meant that an infantry officer could remove the earphones from his No. 48 set, plug them into the exterior circuit and talk with the Gunner or driver of the tank inside. The 1st Canadian Armoured Brigade's Signal Squadron pioneered this technique in Tank- Infantry Communications. These innovations were so worthwhile that they were adopted by other armoured formations of the 8th Army.
These innovations were just in time. By November 9th, the forward elements of the 8th Army were in contact with the forward defenses of the German Winter Line (a series of defensive lines) which had been set on the high ground north of the Sangro River. This included the 1st Canadian Armoured Brigade and the 1st Canadian (Infantry) Division. Bad weather would delay the capture of the Sangro River until the end of November. This set the stage for the Moro River campaign and the battle for Ortona in December.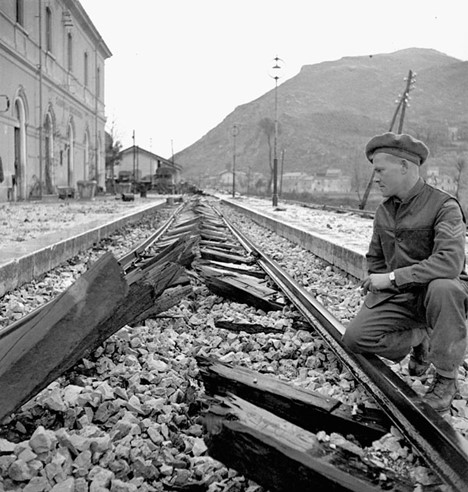 Sergeant F.H.J. Ricketts examining railway ties which were cut by the last German train through Carovilli, Italy, 26 November,1943. Credit: LAC
November 11 is Remembrance Day!
As we approach another Remembrance Day, we all pause and reflect about those still living and those who paid the ultimate sacrifice in service to Canada.
105 years ago, World War I ended. The loss of life was so staggering World War I was considered to be, "the war to end all wars."  To honour the losses of servicemen and women, "Armistice Day" began in 1919.  In 1931, the name was changed to Remembrance Day.
80 years ago, World War II was being fought in Europe, Africa and the Pacific. Most of the men and women who participated in that conflict are no longer with us, but we remember them and their valiant service.   Many of those who fought in Korea 70 years ago are in their 90s now.  After the Korean conflict, peacekeeping became a common occurrence for Canadian soldiers as the Canadian government was instrumental in the formation of both the U.N. and NATO as a check to the Soviet Union in the Cold War.
The Berlin Wall fell 34 years ago on November 9, 1989. The Cold War was over, and the Soviet Union began to crumble. But within a year, the Gulf War began.  Yugoslavia began to disintegrate due to the death of Tito.  As U.N. peacekeepers Canadian soldiers were in Yugoslavia, Namibia, Somalia, Western Sahara, Cambodia, and Haiti all through the 1990s.
As members of NATO, Canadian soldiers deploy in the Balkans and into Afghanistan from 2003 to 2014 as part of the International Security Assistance Force. 158 Canadian soldiers lost their lives in Afghanistan. In 2014, Russia, under Putin, annexed the Crimea.  To support NATO's presence in Eastern and Central Europe Canada launched Operation REASSURANCE in Latvia in 2014 that is still ongoing.
Canadian Forces serving members are currently deployed across the globe. This Remembrance Day, think of those both living and dead who have worn the uniform of the Canadian Forces with dignity, pride, and honour.
Karen Young,
Museum Manager
November Museum Happenings
Museum Hours Change!
We are open National Aboriginal Veterans' Day, November 8, 2023.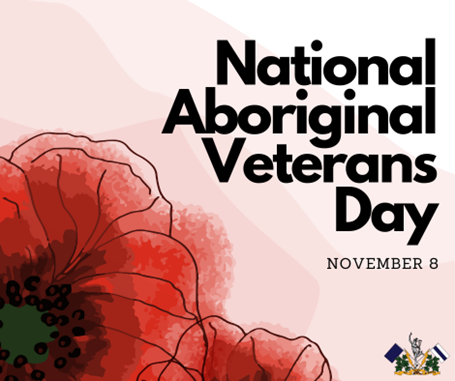 We are open November 11, 2023 from 0900-1530. Admission is free for Remembrance Day! Free Admission and Coffee and Tea is brought to you by Ivory Smiles Dental in Kingston East, 96 Innovation Drive, Kingston, ON K7K 7E6! https://ivorysmileskingston.ca/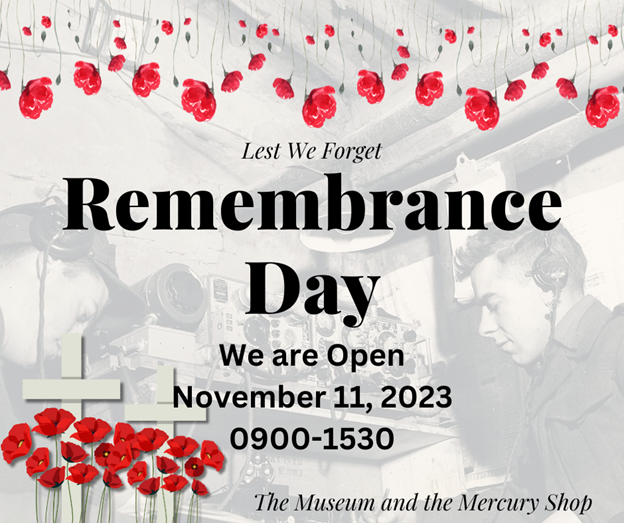 We are closed for Remembrance Day November 13.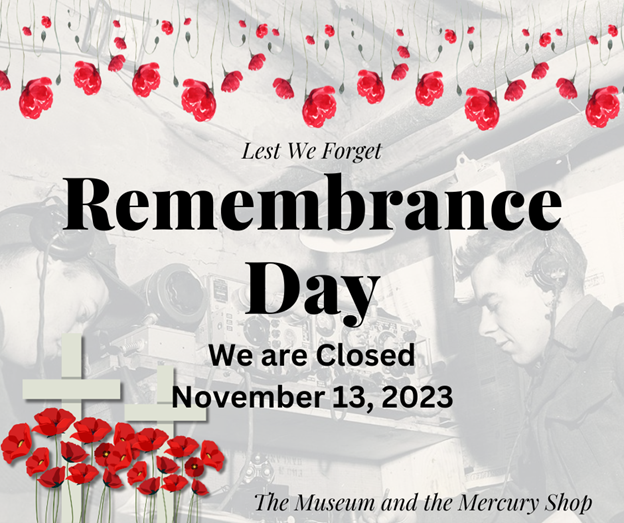 Coffee with Veterans
Our next Coffee with Veterans is November 14 at 1000. We will be in the small conference room. All are welcome! This includes veteran's spouses and widows/widowers. Proudly sponsored by ADGA! www.adga.ca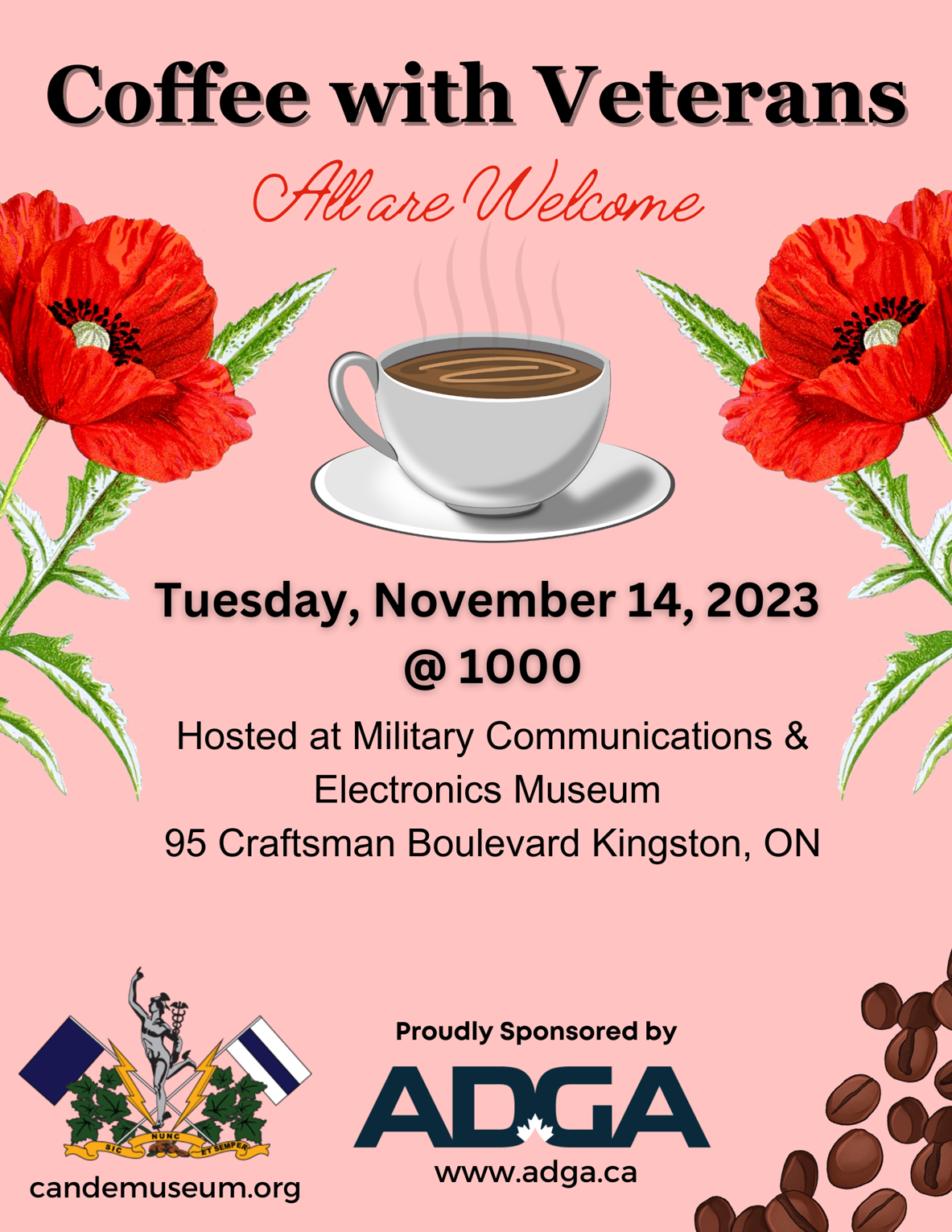 Operation Trick and Treat
We hope everyone had fun at Operation Trick and Treat!
Mercury Shop
The Mercury Shop will be closed November 13, 2023 for Remembrance Day.
The Mercury Shop will be participating in the CFB Kingston Craft Fair on November 18 and 19th at the Thompson Drill Hall where you can see all our great giftware.
Want something customized? The Mercury Shop can do that for you. We do more than military themed items. The Mercury Shop has a great line of customizable glassware, steelware and wood products as well as a wonderful display of a children's toys.
As always, the Mercury Shop has a wide range of military accoutrements available as well as our medal mounting service all year round. Our hours are 1000 to 1530 Monday to Friday.
For more information about any of our other services, please reach out to the Mercury Shop by phone 613-541-5395 or email mercuryshop@candemuseum.org
Leala Hampel,
Mercury Shop Supervisor
Not Forgotten – Honorary Captain and Paymaster William Webster Wilson and Sapper Edwin Kellett


In this month's edition of Not Forgotten, with respect to the time of year, we will be studying the stories of two men who were killed in the First World War.  Despite likely having never known one another, their lives followed similar paths, and were lost in the midst of the Battle of the Somme.  Their time in service to Canada looked markedly different, and yet they were nearly in lockstep through the events of the war.
William Webster Wilson was born in Edinburgh, Scotland on 19 November 1890, and Edwin Kellett was born in Calverley, Yorkshire, England, on 10 July 1893.  Both emigrated to Canada before the Great War began in 1914.  By that time, William worked as a Bank Teller at the Bank of Montreal in Lindsay, Ontario, while Edwin worked as a Telegraphist (though it's unclear where he was living at that time).
Shortly after the outset of World War One, both Edwin and William found themselves in Valcartier, Quebec, enlisting in the Canadian Expeditionary Force (William on 18 September, and Edwin on 23 September).  Their civilian trades made the choice of occupations clear for them; William used his financial experience to serve as a paymaster, earning his commission and the rank of Honorary Captain and Paymaster; Edwin's Telegraphist experience earned him a place in the Signal Corps.  Both were subsequently assigned to the 1st Division Signal Company.
Sapper Kellett arrived in France in March of 1915, with Captain Wilson arriving in early April, both just ahead of the Second Battle of Ypres, which marked the first ever deployment of poison gas in battle by the German army. 
From this point, their stories diverged for a brief period.  From January until the end of May 1916, Hon Capt Wilson was attached to the Division Headquarters, and was able to take a week of leave in June.  During this period, Sapper Kellett experienced the harsh disciplinary measures of the armies of the early 20th Century. 
Sapper Kellett was charged twice, once in March, and once in May.  The first offense was "committing an act to the prejudice of good order and military discipline[,]" which resulted in him receiving 10 days of Field Punishment Number 1 (FP No. 1).  FP No. 1 was a measure used in the field which made a public example of a soldier.  It consisted of being bound by ropes or shackles to a stationary object for up to two hours a day, in full view of one's comrades, in addition to being subjected to hard manual labour. 
            Sapper Kellett's second offense was "failing to stand to attention when met by an officer[.]" which resulted in 5 days of Field Punishment Number 2 (FP No. 2).  This punishment held only the labour requirements of FP No. 1.
In late 1916, following the end of Sapper Kellett's punishments, and Hon Capt Wilson's return from Headquarters, the 1st Division found itself in what would come to be known as the Battles of the Somme, which saw histories first use of tanks on the battlefield.
On 19 September 1916, days after the Battle of Courcelette, Sapper Edwin Kellett was killed in action.  The exact circumstances of his death are unknown, but with his name now inscribed on the Canadian National Vimy Memorial, it is likely that his body was never recovered from the battlefield.  Courcelette was one of the first attempts of the Creeping Barrage by the Canadian military.  Where normally soldiers would wait in the trench while artillery shelled the opposing trench, the Creeping Barrage featured soldiers walking behind an advancing wall of artillery, such that there was no delay between the bombardment and the assault.
Less than a month later, Capt Wilson was reported missing in action as the Battle of the Somme raged on.  There were no reports on what had happened to him at the time, but the War Diary of the 1st Division Signal Company stated that on 9 October (the day Capt Wilson was reported missing) there was "very heavy shelling[.]"  As there were no reports to go on, and with no sight of Capt Wilson in nearly a year, Honorary Captain and Paymaster William Webster Wilson was officially presumed dead on 4 August 1917. 
Years later a report from a George Martin, submitted on 12 June 1919, to the Canadian Red Cross Society stated, "I was informed by Pte. Spyker that he was out with Captain Wilson on a patrol in No-Man's Land when he was killed by a shell."  While this was not a solid confirmation, it was forwarded by the Red Cross with the hopes that "Capt. Wilson's relatives may be glad to know that enquiries are still being conducted on their behalf."
Both men were immigrants who volunteered shortly after the outset of a global conflict.  They used the knowledge and skills they had cultivated in their civilian lives as a tool for their service.  They volunteered in Valcartier, Quebec, and served with the 1st Canadian Division Signal Company, surviving the Second Battle of Ypres, and meeting their fate in the Battle of the Somme.  They left families and friends behind.  While neither man was married, their passing doubtlessly left a void in the lives of those who knew and loved them.  Both men have their name forever inscribed on the Canadian National Vimy Memorial.
Capt Sean Maas-Stevens, CFJSR