Dear MCEM Friends,
Welcome to the July 2023 edition of The Despatch, the Military Communications and Electronics Museum Newsletter!
Getting to know our new CFSCE Commandant!
In June we had the opportunity to ask the new Commandant LCol Geneviève Audet a few questions. Here are the answers.
What inspired you to join the military?
I grew up near a military base and joined the Communications Reserve during my college and university studies. I didn't find a job with as much team spirit and camaraderie which is why I transferred to the Regular Forces after 10 years as a Reservist.
Why Signals?
Friends convinced me to join a Communications Reserve unit. I didn't know the trades, only that our recruit course was going to be in St. Jean with members of the Regular Force. It seemed like a good option if I wanted to join the Regular Force one day!
What is your favourite military memory of your service prior to being Commandant?
The day I graduated from the Joint Command and Staff Programme (JCSP) course in Toronto, I realized that I was really lucky to have been able to do this course during my military career and to be with extraordinary colleagues who would undoubtedly be the leaders of tomorrow.
How do you feel about being the "first" in the position of Commandant?
This is a sign of confidence from the Army's senior leadership. I will take advantage of each day of this Command, to know the members of the school and our students in order to support them and ensure their success. Who knows, this may be my last Command! I loved my command at 5 Canadian Mechanized Brigade Group (CMBG) Headquarters and Signal Squadron (GQLT) with a similar philosophy.
Saying Farewell to the OC Museum: Major Geoffrey Priems
Things I Learned When I Worked at the C&E Museum
By Major Geoff Priems, OC Museum, January 2022 to June 2023
The Museum is really the only physical manifestation of the C&E Branch. While different monuments and small collections exist, this is the place where we celebrate all aspects of the Branch
There are passionate Museum supporters, volunteers and employees. People care lot about our collection and have strong feelings and opinions.
Artefacts donated to the Museum must be conserved to try to keep them available in perpetuity.  Putting an artefact on display shortens its life span.  It is a delicate balance of displaying and conserving Artefacts.
Our highly trained Curator, Annette Gillis is personally charged with the care of the entire Museum collection, and to preserve, protect and display the collection on behalf of the Crown. A donation to the Museum of Artefacts is a donation to the Crown.
Museum operations is supported by CFB Kingston (heat, air conditioning, lights, water, payment in lieu of taxes, snow and ice clearing, and landscaping), Personnel Support Programs (human resources, money/funds/donations/sponsorship management), CFSCE (primarily through the provision of 2 personnel awaiting training each day), and the Museum Foundation (funds).
There are three separate business lines at the Museum: Operations, Curatorial/Education and Mercury Shop. None can "lose money."
The Museum operates based upon donations to it from the Military C&E Foundation, the Mercury Shop profits, the donation bin, and sponsorships. The Foundation has money in an endowment, and from C&E Branch members through donations.
Payroll deductions from the Regular Force have dipped below $5000 a month.  For a low monthly donation (from your pay P070), you can help to conserve our history. Consult your pay office or Orderly Room to arrange.
For Reserves, we cannot do payroll deductions, so we have an alternative to make donations https://www.canadahelps.org/en/charities/the-military-communications-and-electronics-museum-foundation
The Military Communications and Electronics Museum Foundation is a separately incorporated registered Charity which supports our Museum and the C&E Branch office.
The Communications and Electronics Association is a separately incorporated not-for-profit corporation which represents the professional side of the Branch.  You may recognize it at CMCEN.ca.  Great info here on recent Branch activities! Subscribe.
The Museum must follow a lot of rules.  We have to follow rules made by the following organizations: Treasury Board, National Defence, Non-Public Finances, Revenue Canada, Federal Health and Safety, Ontario Health and Safety, Ontario business, KLF&A Health, CFB Kingston, Canadian Forces Morale and Welfare System/Personnel Support Programs,  Organization of Military Museums of Canada, Directorate of History and Heritage, Canada Conservation Institute, Canada Museum Association, and the Ontario Museum Association – and direction from the C&E Branch.  As a result, simple questions rarely result in simple answers.
We are in the Top 5 Museum Attraction in Kingston on Trip Advisor, which is used as the benchmark for success in the tourism industry. We are popular!
The Museum instituted a modest Admissions fee for non-CAF, or non-Veteran members to help increase tourism.  As a result, we are now a stop on the Kingston Trolley Tour and have a spot on the K-Pass.  In 2024, Great Lakes tour operators will add the C&E Museum to their excursion packages.
There is a Museum inside our Museum.  We have an agreement with the Royal Canadian Electrical and Mechanical Engineers to provide a space to host their Museum located at the entry to the Museum Expansion.
The Mercury Shop provides accoutrements for the C&E Branch and RCCS. It strives to have low prices. Unfortunately, the cost of shipping has gotten outrageous, so bulk orders versus personal orders is highly encouraged.
We offer a discount to C&E unit kit shops to carry our items, so members can save on shipping and other costs. Contact the Mercury Shop at mercuryshop@candemuseum.org for more info.
80 years ago! Operation Husky: The Invasion of Sicily Part 2- July 1943
In late June, two assault convoys left the shores of Scotland bound for Sicily. Most of them made it but not all. On July 4 and 5 three merchant / passenger transport ships were attacked by U-boats. All three carried personnel and equipment destined for Sicily.
On July 4, 1943 at 2047 and 2140 hours respectively, the ships City of Venice carrying 302 troops, 700 tons of military equipment, one landing craft and the Saint Essylt carrying 322 troops, 900 tons of military stores and two landing craft (LCT) were struck by torpedoes from U-409 and U-375. Both caught fire and were abandoned and sank the following morning. The City of Venice lost 22 people and Saint Essylt lost 4.
On July 5, 1943 at 1545 the Devis, the Commodore Ship for the Allied Invasion of Sicily with 289 Canadian troops, 4000 tons of government stores and a deck cargo of two landing craft was hit at 15.43 hours by U-593. 52 soldiers were lost and 40 wounded. The ship sank in under 25 minutes.
Also gone with these three ships was most of the vehicles, anti-tank weapons, artillery pieces and signals equipment to support the invasion after landing on the shores of Sicily.
The fast convoy suffered no damage. Signals details on board were ordered to assist naval signallers on the ships as everyone prepared for the assault. Sand tables were on each ship, used for briefing the troops on their objectives- landing successfully on the Pachino Penisula as part of the British 30th Corps on July 10, 1943.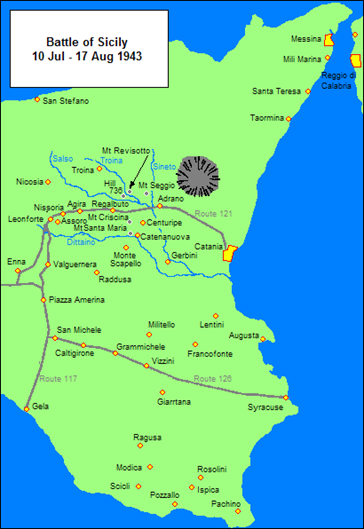 And land successfully they did. Despite having lost their motor vehicles and other equipment, signallers hand carried their wireless sets ashore from the landing crafts through the surf, keeping them dry. While making sure that vital links did not suffer, signallers continued to walk their equipment where needed as the invasion occurred. Divisional Headquarters, with their equipment at the bottom of the sea, could not set up a communication system until July 12. They relied solely on despatch riders for communication. On July 13th, while attempting to set up a formal headquarters, the Divisional Signals was strafed with the loss of 5 soldiers and 7 wounded.
So quick was the advance that the campaign was soon out of wireless range and without enough wireless sets and vehicles there was no way to set up a relay. The terrain in Sicily, hot, dry, dusty and mountainous with few trees and fewer roads, was less than ideal for setting up communications of any sort.  The wireless sets and the despatch rider were often the only means of communication. And the wireless No. 18 set was not up to the demand of both distance and heat, as the battery chemicals deteriorated in the heat. It did not help that so much equipment had been lost at sea. To support the forward units of each brigade General Simonds of the 1st Canadian Infantry Division commanded that No. 22 sets were loaded on mules and sent forward. The mule would have the No. 22 set loaded on one side and batteries on the other. Often the signaller walked on one side of the mule plugged into his set. Sometimes when things became too "hot" the mule would retreat leaving the operator with microphone and earphones but no set. Mules as well as operators became German targets.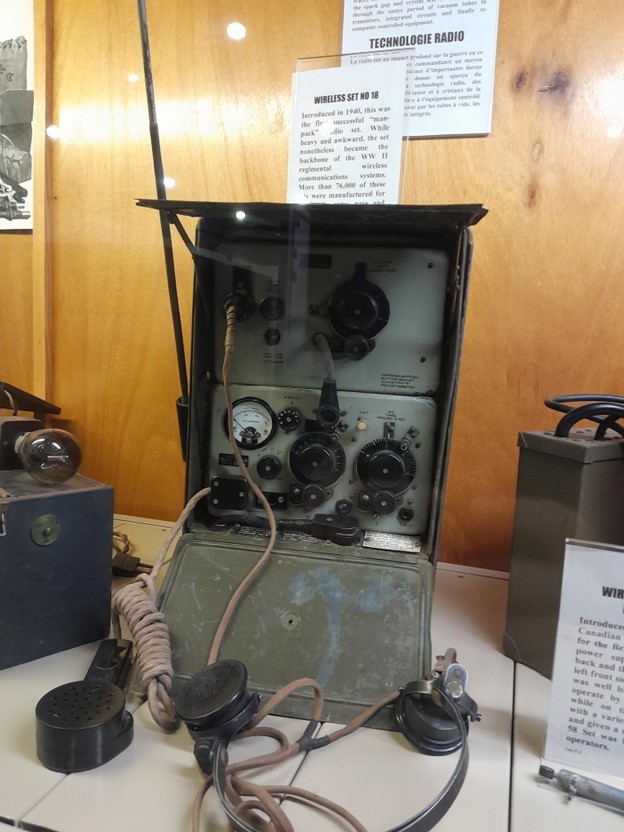 The Canadians saw action at Grammichele and Piazza Armerina, then Valguarnera on 17-18 July, the first true divisional operation of the war for Canadian soldiers. Canadian successes took place took place in the hilly terrain southwest of Mt. Etna from 20-22 Jul, including a surprise night attack by the 1st Brigade at Assoro which was followed by successful defence against persistent counter-attacks, and the capture of Leonforte by the 2nd Brigade. These successes would not have been possible without signallers to repair equipment and hook into existing networks to call in for artillery and infantry support and despatch riders in the areas wireless could not support. The Leonforte-Assoro-Nissoria triangle was cleared by July 27th, 1943 and the ability of the wireless set as a mobile device was secured.
Operation HARDGATE began on 29-30 Jul, intended to open the way for the British 30th Corps, aimed at taking Regalbuto, Centuripe and Adrano. Fighting continued into August 1943.
Karen Young,
Museum Manager
CanadaHelps Great Canadian Giving Challenge
Thank you to all who donated to the campaign! We sincerely appreciate your generosity and for giving us the opportunity to win $20000! We will know the results of the CanadaHelps Great Canadian Giving Challenge later in July and let you know in the August edition of the Despatch if we won!
Come say Hello! to our Summer Staff
Have you ever wondered how we stay open 7 days a week in the summer? Summer students help! This year we have four summer staff! The Mercury Shop is lucky to have Rhianna Grove and Ethan Pelletier working in the shop taking care of our customers. In the meantime, CFSCE has hired two Federal Student Work Experience Program (FSWEP) students, Sarah Sheppard and Niina Meidlein to support the curatorial department by scanning records and help with creating marketing pieces for the museum as a whole. Welcome to our awesome summer staff!
Doors Open Kingston!
Join us for a free day at the museum on July 22! We will be open from 1000-1700. No admission fees will be charged.
Coffee with Veterans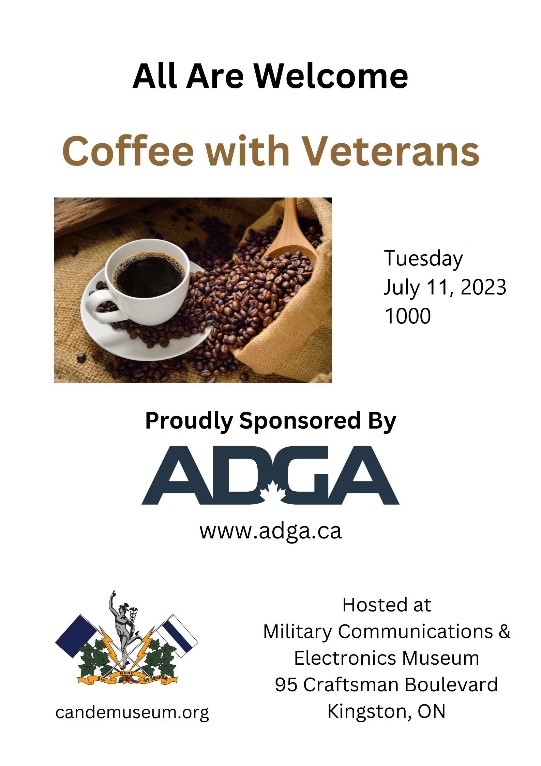 Our next Coffee with Veterans is July 11 at 1000. All are welcome! Proudly sponsored by ADGA! www.adga.ca
Mercury Shop
The Mercury Shop welcomes a new artist to the Shop! This month we are featuring Helen Baker, an extremely talented Kingston artist with her colourful collection! A portion of all of Helen's work sold will go to support mental health initiatives at Kingston Defeat Depression. https://www.facebook.com/HBBArtByHelen https://www.instagram.com/bakerhelen86/?hl=en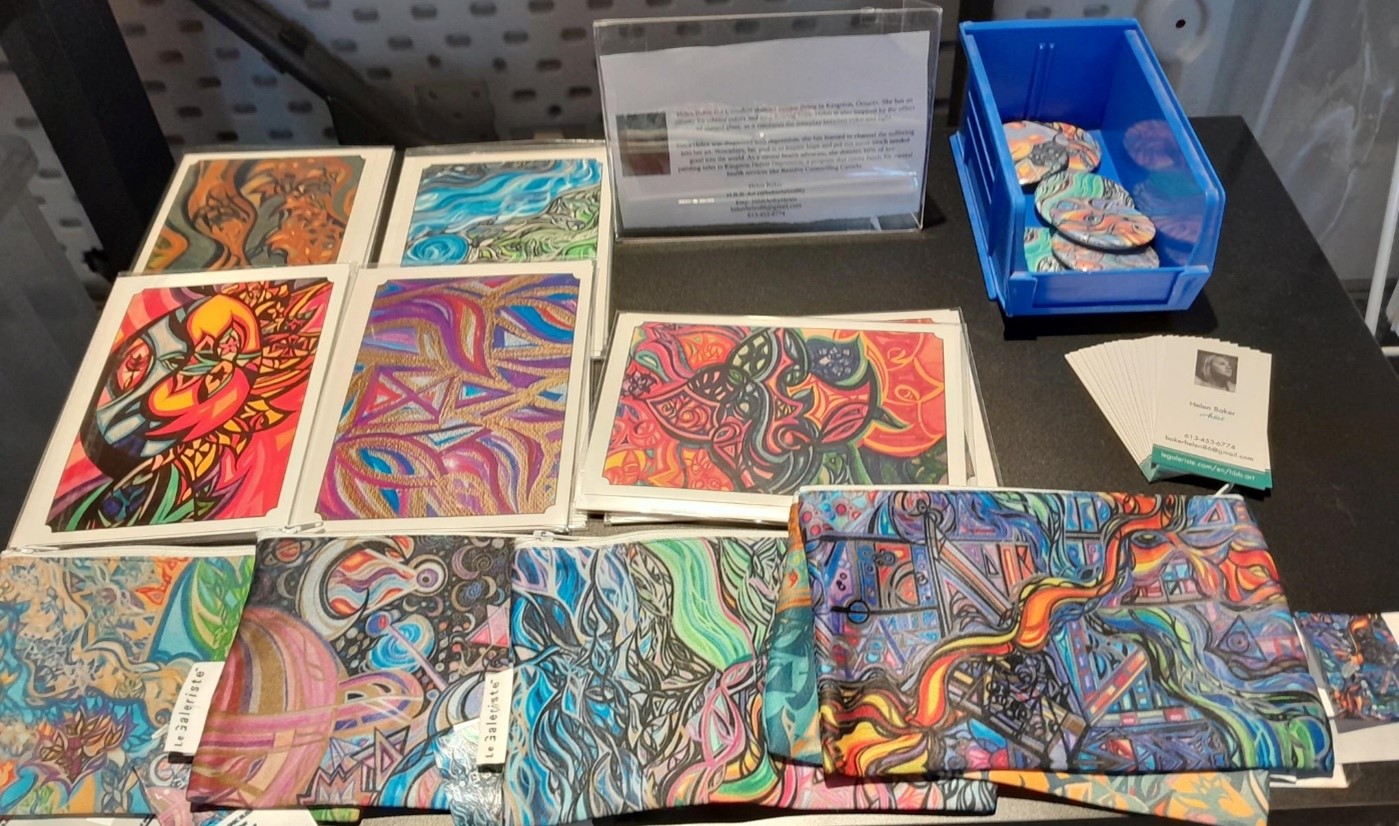 As always, the Mercury Shop has a wide range of military accoutrements available as well as our medal mounting service.
For more information about our new Helen Baker Collection and any of our other services, please reach out to the Mercury Shop by phone 613-541-5395 or email mercuryshop@candemuseum.org
Leala Hampel
Mercury Shop Supervisor
Not Forgotten – Charles Forrest Patterson
Captain Sean Maas-Stevens, CFSCE
Ref: A. Library and Archives Canada – B7636-S046 – Personnel File of Charles Forrest Patterson (- Library and Archives Canada (bac-lac.gc.ca))
B. Commonwealth War Graves Commission – Sapper Charles Forrest Patterson – (Sapper Charles Forrest Patterson | War Casualty Details 464238 | CWGC)
C. Imperial War Graves Commission - Comprehensive Report (B) Headstone Personal Inscriptions – Tyne Cot Cemetery "M" – Page 6.
D. RCSigs.ca - 4th Canadian Divisional Signal Company – (4th Canadian Divisional Signal Company - RCSigs.ca)
In this issue of Not Forgotten, we will be taking a look at the file of Sapper C.F. Patterson of the 4th Divisional Signal Company.
Charles Forrest Patterson was born 4 August 1896 to Isabella and Rev. J.R. Patterson.  At the age of 19, he joined the Canadian Over-Seas Expeditionary Force, attesting in his hometown of Toronto, Ontario on 16 December 1915.
By the end of March of 1916, he arrived in England with the 3rd Divisional Signal Company. He spent a month in the hospital between May and June of 1916 due to a foot injury, and was promoted from Sapper to Corporal on 19 August 1916. Following promotion, he spent two more months in the hospital for injuries to his arm. In January of 1917, by his own request, he was demoted to Sapper.
In April 1917, Sapper Patterson was transferred to the 4th Divisional Signal Company, commanded by then Major A.G. Lawson.
On 13 November 1917, Sapper Patterson was killed in action in the fields of France, at the age of 21.  He is buried in Tyne Cot Cemetery in Belgium.  His headstone, commissioned by his parents, reads:
I THANK MY GOD
UPON EVERY REMEMBRANCE
OF YOU
For more information on the life of Charles Forrest Patterson, his personnel file can be found at Library and Archives Canada, and details regarding his location of burial can be found through the Commonwealth War Graves Commission.